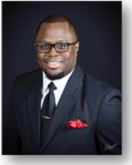 Reverend Don Darius Butler
The Reverend Don Darius Butler is the sixth pastor of Tabernacle Community Baptist Church in the City of Milwaukee, Wisconsin. Born to the parentage of George Delancy and Suzanne Butler, on the picturesque island of New Providence, in the Commonwealth of the Bahamas, he was educated in Bahamian public schools, excelling both as a scholar and orator. During his formative years, he participated in numerous civic and youth organizations, namely, the Royal Bahamas Police Cadet Corps; the Bahamas Boys' Brigade, 42nd Nassau Company; and the Governor General's Youth Award Program. He was also an inaugural Youth Parliamentarian in 1998, and a representative to the Commonwealth Youth Program in 2000.

Ever the inquisitive mind, Butler began searching the scriptures as a youth, under the tutelage of his pastor, Reverend Dr. R. E. Cooper, Jr., and, truly, the Bible held him as a magnet holds a needle. Evening worship services at his home congregation, The Mission Baptist Church of Nassau, was fertile soil for the budding gospel-proclaimer, as he offered spirited exhortations to the congregation. Later, he would publicly acknowledge God's call upon his life and journey toward the ministry. The congregation that nurtured him in faith and discipleship granted him licensure and ordination.

To prepare for his vocation, Butler read theology as a student at American Baptist College, Nashville, Tennessee, obtaining a baccalaureate degree summa cum laude. His studies continued at Vanderbilt University Divinity School, as a Kelly Miller Smith Scholar, where he was conferred a divinity degree with honors. The Saint James Academy Award for preaching was also bestowed upon him, along with a certificate in Black Church Studies. Currently, he is writing a doctoral thesis at Duke University Divinity School, Durham, North Carolina.

Butler honed his pastoral care skills in a chaplain residency at Norton Healthcare in Louisville, Kentucky, earning four Clinical Pastoral Education units. He provided spiritual support to children and adults during critical medical crises and regular clinical rotations. In the summer of 2012, he was a fellow at the Chautauqua Institution's New Clergy Program in Chautauqua, New York.

In addition to his leadership and ministry at Tabernacle, Reverend Butler is an associate chaplain with the Milwaukee County Sheriff's Office; an outreach leader for the American-Israel Public Affairs Committee; and chairman of the Board of Trustees of American Baptist College. He is also a member of Phi Beta Sigma Fraternity, Inc. and a past recipient of The R. E. Cooper, Sr. National Meritorious Service Award for his service to humanity. He was inducted into the Martin Luther King, Jr. Board of Preachers at Morehouse College in 2016, in recognition of his social ethos. He is published in The African American Pulpit, The African American Lectionary, and Walk Together Children: Black and Womanist Theologies, Church and Theological Education.

An avid traveler and moral cosmopolitan, Butler is married to the former La Keisha C. Wright, an alumna of the law school of Vanderbilt University and New York University, respectively, who is an assistant city attorney with the City of Milwaukee. They are parents of a daughter, Dahlia Marie.